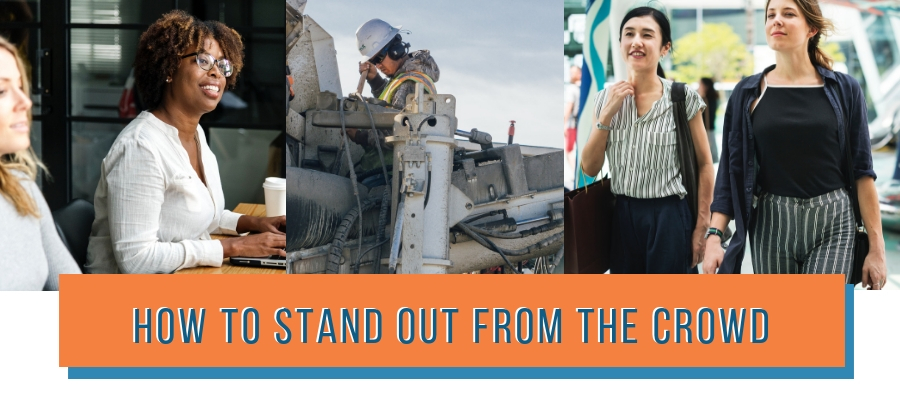 How To Stand Out From the Crowd
Whether you have responsibility for hiring or are considering your next career move, it's helpful to be cognizant of 3 qualities that make a candidate for employment (or promotion) stand out from the crowd.
Ability to prove his/her value in the role.
Anyone can compile a list of skills.  The smart or more mentally mature candidate will connect the dots in his/her resume, cover letter and conversation in order to make a case for the value he or she can add to the organization. How?
The simplest way is by including achievements on a resume that back up their duties. There's a huge difference between a person who can file and stock shelves and one who "Brought order into the office supply area by organizing supplies and then labeling shelves and files."  Then, in the conversation with the interviewer, the smart candidate will be solution-oriented in a way that makes sense for that role.  Depending upon the level of the position, we'd expect the better candidates to strive to understand the problem to be solved through filling the position.  
Proves he/she knows the company.
How many times have you performed an interview and asked, "What do you know about our company", to hear the person say, "Nothing, actually."  A person who goes into an interview knowing nothing about the company is just looking for any job; but, honestly, aren't you more open to the person who says, "Yes, a couple buddies worked here summers in the past.  Based on what they said, I've been looking for an opportunity to get on here."?  That says, "I know about you, and I'm still interested."
Obviously, the higher the level of the position from a reasoning or decision-making standpoint, we'd obviously expect the candidate to go beyond the basics and strive for a thorough understanding of the company or role.  The amount of energy the candidate puts into learning about the company speaks to both how much (or little) he/she values the company as well as what the company might expect from him/her on the job. 
So let's tie these first two into the number one predictor of success in a hire — drive.  
Drive/Energy
Drive – also known as energy—is the number one predictor of success of a hire.  A person with drive has initiative, makes things happen, and is responsive.  Think about it.  If a person needs to be driven, he/she doesn't have drive.
What's the opposite of drive?
A wet noodle that needs to be pushed every step.

An employee passively waiting for the company to make him/her successful.

One who won't take the time to think.
Of course, you might have your own ideas of what makes a person stand out from a crowd.  We'd love to hear about it! Contact us!