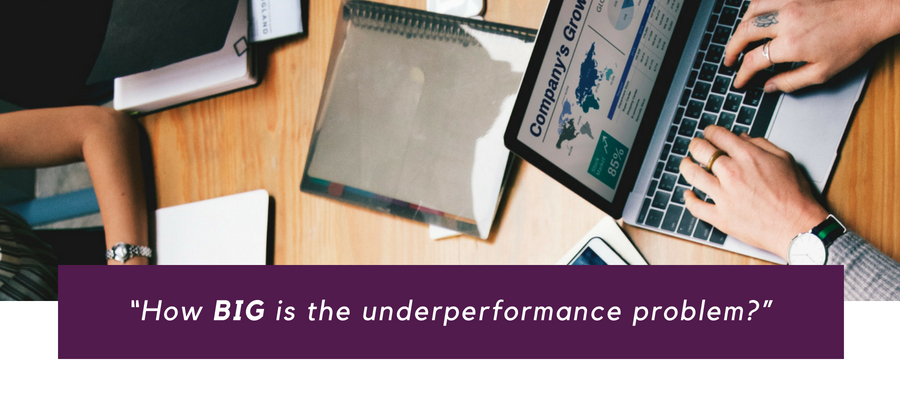 Productivity matters to a business's profit line. As business owners strive to determine why their organizations are under performing, following are observations based on our experience.
First, "How big is the underperformance problem?" Let's review a Gallup research project which sampled a large cross-section of organizations throughout the United States. Big organizations, little ones, all kinds and sizes were sampled.
One significant finding from that research indicated 48% of the employees worked at compliance level performance and 33% worked below compliance level. The estimated cost of this under-performance to U.S. businesses was approximately $350 Billion per year, depending upon whom you ask.
How does this happen? Of the various possible answers, for the sake of this article, we want to focus on one: dumbing down jobs.
The dumbing down of jobs causes a loss of self-esteem and dignity. When the job is too easy, employees seem to lose incentive to strive for excellence. Are you ready for the paradox? Organizations often fall for the strategy of making jobs easier as the path to performance excellence when it may actually do the opposite.
Below are some possible strategies to consider when dealing with under-performance:
Build significance into the job description. Almost every employee wants to perform meaningful work. By significance, we mean "work that is worthwhile, which allows employees an opportunity to grow, stretch, and achieve progress".
Give employees an opportunity to become experts. This allows employees the opportunity to be admired by peers and customers, not to mention to feel appreciated and valued.
Offer opportunities to use a variety of skills. Without variety, there are two critical consequences: Employees become bored, and their growth is limited.
In applying these principles, note that the level of variety and expertise is individual for each employee.
Just because the Job Description is a legal document doesn't mean it has to be BORING. Build excitement into your job descriptions. Liven them up with opportunities to excel. Ask the important question, "How can we make this job more meaningful and productive?" If you do so, you might be amazed at what can happen with a super-charged work force.
Editor's note: Yes, we are aware that there are a number of elements to under performance from engagement to systemic issues. We deal with them extensively in our consulting firm, so please peruse, in particular, services provided under People Management, or feel free to call Bob.