If you're a job seeker (or a career seeker), we may have a client with an open position that fills your skill set. Read the descriptions below, and follow directions carefully to apply! You may also contact us if you have questions.
Opportunities currently (as of 2/19/20) include: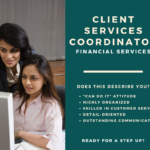 Client Services Coordinator – Financial Planning (Columbia, MO)
Are you ready to take the next step up? This full-time position is well-suited for a highly motivated, dependable professional to become a contributing member of Synergy Wealth Solutions, formerly HighPointe Financial, a reputable financial services office in the Columbia area.
The ideal candidate will bring a high level of drive, energy, organization and professionalism to the organization.  He/she/they will be responsible for providing administrative support, processing applications and performing account maintenance in a fast paced, customer-service oriented environment. Must be flexible and able to work under pressure and consistently meet deadlines. Proven outstanding communication skills and a strong sense of customer service is a must. Out-of-the-box thinking and creativity is a plus!
Submit resume and cover letter to Doris Scribner, Hiring Manager or contact directly via phone for more information.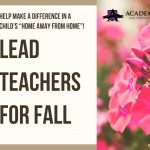 Lead Teacher – Academy of Early Childhood Learning (Columbia, MO)
Make a difference in the life of a child and gain valuable training and experience. (Academy is always thinking ahead, so if you'd like to plan your next step for later in the year, let's start the conversation now!) 
Apply to AcademyCastle.com/Employment-Application/
For more information see the Academy Indeed ad here.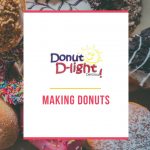 Production &/or Sales (Making Donuts!) Donut D-Light (Auxvasse, MO)
Don't you think making super tasty donuts would be a great way to make a difference in someone's morning?
Entry level or experienced.  PT and FT.  Afternoon/Evenings. Training provided.
Call 573 554-2270 for details, or you may submit a resume to hr@executiveadvantagellc.com.